Skip Navigation
Website Accessibility
34500 Gateway Drive
Suite 110
Palm Desert, California
(760) 328-8737
Thursday - Saturday
9:00am - 4:30 pm
June 26th, 2021
We would like to remind you that our Annual Summer Shutdown is next week. The store will be closed for our summer refresh from June 28th – July 7th. We need to refresh the store getting ready for the Southern California Quilt Run, What's in Your Garden Shop Hop event. The store will reopen on Thursday, July 8th for business.
Well, it's no secret anymore what's in our Tropical Garden… Flamingo's of course. Come Flamingle with us on July 15th – July 18th and July 22nd – July 25th. It is going to be a Flamazing event!
Pretty in Pink. Show us your best pink attire during the event for a chance to with a tropical gift basket. Can you wear too much pink? I think not… we are hoping to see some pink feathered boa's … show us your best outrageous outfit.
Flamingo Obsession. Show us your best Flamingo you have for a chance to win a $75.00 store gift certificate. You can wear a Flamingo, you can show us a Flamingo, you can come decked out head to toe with Flamingos… or bring your Flamingo on a leash!
Just in - a new blender collection by Riley Blake Fabrics, Trento. Lovely Trento stone, or terrazzo appearance with lots of particle's indicative to stone. Raven, Dove, Mushroom, Parmesano, Chocolate, Basil, Evergreen, Azure, Cosmos, Rosa, and Snowcap are the colors. A great background for applique or subtle accent to any quilt.
We continually add to our novelty section this month more Cat in the Hat and Ahoy Mermaid pieces were added.
The ship date for Dance In Paris has been moved back yet again, this time they are showing a ship date of June 30th. Sigh… well we know that when this fabric shows up it will be a wonderful addition to the store with all those delicious colors, cool aquas, chartreuse, deep navy and soft pal pinks. We will let you know the second it arrives.
We currently have 97 donated pillowcases ready for Ryan's Cases for Smiles. Thank you, Kathleen, Carl, Mary, Linda, Monica, Shirley, and Cathy … for donating your time and fabric to help a very praiseworthy organization. This organization works tirelessly to supply happy pillowcases to all sick children in the Inland Empire. The need is sizeable and ongoing, and we are trying to get another 50 – 100 cases donated over this summer. If you are looking for a feel-good project, please consider making a pillowcase for a sick child. We are an official drop off location so pass the word on.
Happy Fourth of July to you all … stay safe and as always, we look forward to seeing you at the store. We will be back on Thursday, July 8th.
eee
Southern California
Quilt Run
Trento
(Riley Blake Designs)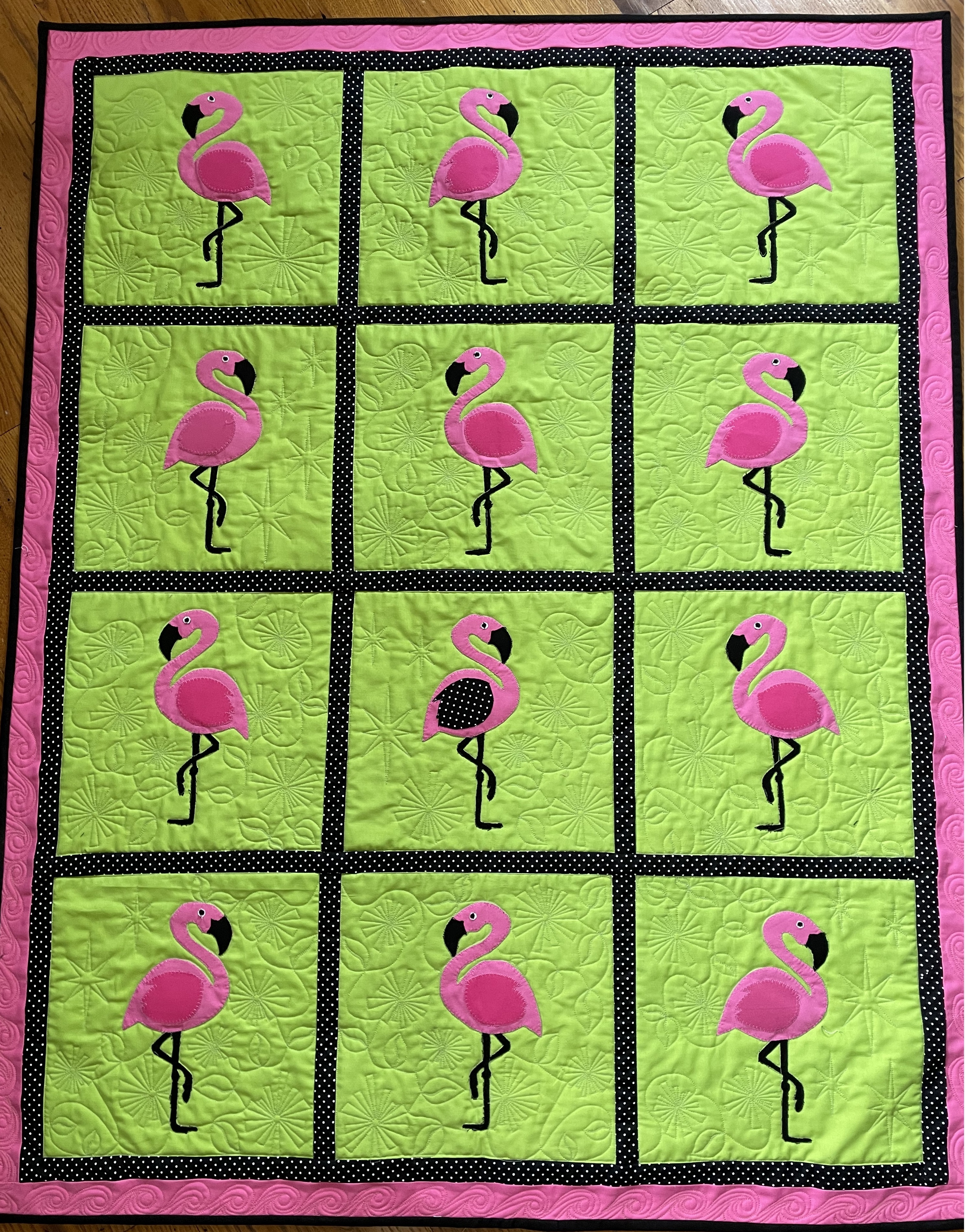 Southern California
Quilt Run